Fort Lauderdale FL Air Conditioner Repair Service
Before attempting to  repair your ac at your business or home, there are a few things that you need to know about air conditioning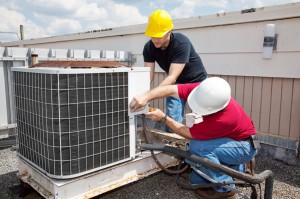 systems. When a homeowner or business owner's AC breaks down, many of them will try to fix it themselves without the right understanding of how these HVAC systems work. Now, while there is nothing wrong with doing some basic  repairs, in order to be successful you need to understand some principles about HVAC repair.  Due to the fact that air conditioners has to do with electrical components and Freon gas, it is normally recommended to just hire an air conditioner repairman.
For Fast AC Repair Call (954) 256-7333
Both residential and commercial air conditioners function the same way and consist of 2 main units, the evaporator and the condenser. The Freon is put under pressure in the condenser, where it will go through a heat exchanger to remove the gas from the heat and turn it into a liquid. This liquid, then goes into the evaporator through the expansion valve, where it will eventually expand and evaporate as a gas, which is basically the cold air that you feel coming through your AC vents.
For The Best AC Repair Companies Call (954) 256-7333
If you ever need to do repairs on the condenser or evaporator, you need to call a certified repair company. Some basic repairs that you can do is by cleaning the mesh guards that will collect debris over time.
The system is not running – the first thing you need to check is to see if power is going to the air conditioning unit, so go ahead and check the circuit breaker and the fuses. If those are ok, then the next thing to check is thermostat to see if it is set too high, try reducing the temperature by 5 degrees to see what happens. If that doesn't work, you should go ahead and call a professional service company.
The unit is not cooling – The first thing to check in this case is the thermostat to see if it needs to be lowered. If that doesn't fix it, then you need to check the air intake for the condenser. Sometimes they get blocked by leaves and other debris, especially in the fall months. You should also check the fan fins to make sure that they are straight and if they are not, go ahead and straighten them. If that doesn't work you should call a top local service technician.
The system is cooling erratically – The only thing you can do in this particular case is to clean the condenser, outside of that you will need to call a good repair company. It is not uncommon for air conditioning units to get blocked by bushes and small trees, also if your condenser is installed on a concrete pad, then you need to check to see if it is level, because concrete has a tendency over time to crack and depending on how bad the crack is, it can put the motor and condenser out of level, which will negatively affect the operation.
Because the evaporator and condenser are both sealed units, this will make it difficult for homeowners and business owners to do repairs themselves. A common problem that you can fix yourself is if you have a dirty or blocked evaporator. If you have a routine air conditioner service contract with a service company, then these are issues that you will not experience. To clean the evaporator, you will need to remove the evaporator access plate and the insulation.
If you want the repairs to be done properly, you need to hire a professional service company, as you will have problems getting access into the unit, then you need to complete a safe repair and then you safely have to put everything back together. You can try to find an HVAC company near you that does free estimates, but not all of them do. Whenever you want to get central air repairs done, you should ask the repair company if they offer a guarantee for both parts and labor before hiring them.
If the central air repair technician tells you that you need to have the central air unit replaced, ask them if they have a trade in deal. Don't just give them your old unit for free, because some companies will use it for parts to sell to other customers. And last but not least, ask about purchasing a service contract, this will help you to avoid unnecessary stress and sweat if your air conditioner system ever breaks down in the future.
We provide same day service in Fort Lauderdale and these fine communities:
Davie, Lauderhill, Coconut Creek, Pompano Beach, Hollywood, Dania Beach, Oakland Park, Wilton Manors, North Lauderdale, Lauderdale Lakes, Lauderdale By The Sea, Tamarac, Plantation, Parkland, Coral Springs, Weston, Sunrise, Pembroke Pines, Miramar, Hallandale.  Go here to contact us.