A gas range will always make a clicking noise whenever you turn on the surface burner knob after which the burner will light. The noise comes from an electric igniter that sparks the burner and stops when the burner lights at least after clicking 3 times. If it doesn't ignite, then there is a problem somewhere that needs to be addressed by a range repairman.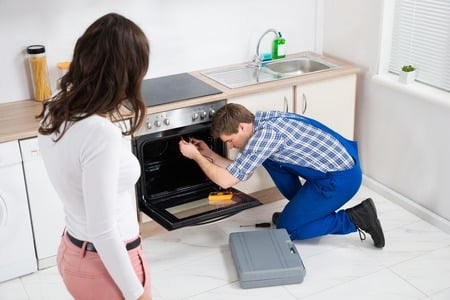 The following are common problems why a gas range igniter won't light and how to repair them:
Food debris and grease
Most gas burners have a problem lighting because of food debris or grease that blocks normal flow of gas.
Invite your residential gas range expert to your house for inspection of the faulty burner. First, the grate on top of the burner and the burner base will be removed. The burner base will then be soaked in warm water or vinegar and scrubbed with a stiff brush to remove food particles. Surrounding areas will also need to be cleaned with soapy warm water to remove grease.
Food clogged in the burner holes will need to be removed with a needle, paper clip or metal pin. Never use a tooth pick to remove food debris in the small holes as it can break off and get lodged inside the holes. Next, the burner and grill should be replaced for the burner to be lit once more. If it fails to ignite, then your range repairman will inspect the connections and igniter for any other problem.
A defective igniter
If the burner has been well cleaned and other gas stove repair has been done and the igniter still won't light, then it could the one causing the problem. Your range repairman will ignite the stove with the lights off to test it. An orange or yellow spark as opposed to a clean bluish-white spark means that the igniter needs to be replaced.
To remove the faulty igniter, power and gas are shut off and then the burner base is screwed out. All wires leading from the igniter will also be disconnected to have it removed. Your repairman will use your stove's model number as a guide in buying a new igniter. The new igniter, burner base, cap and the stove's grate will then be replaced. Next, power and gas are restored before the new burner is tested.
Loose connections
Though not common, some connections of your gas range or stove may become loose probably due to cleaning or installation. Loose wires that link the igniter to the stoves control module may affect ignition.
You can invite an oven technician to your home to inspect for any loose connections. First, power is switched off. Next grate, burner cap and sealed burner base are removed to inspect for any loose wires. Loose or disconnected wires are then secured in place. Finally, burner base, cap and grate are reinstalled before power is switched on to test the new connection.
A gas range will always be useful for every household and with proper care, you can continue enjoying its advantages. In terms of energy costs, a gas stove can be very saving since it continues cooking even when the power is not on. The stove also provides instant heat which saves your cooking time. Consider hiring a stove service technician to provide maintenance service for your gas range and prolong its life.
List of Broward County Locations We Serve:
Gas Stove Repair Pompano Beach Florida, Stove Technician, Dania, Margate, Miramar, Tamarac, Lauderdale Lakes, Parkland, Refrigerator Repair, Gas Appliance Repair, Range Repair, Oven Repair Technician in Oakland Park, Lauderhill, Fort Lauderdale, Appliance Repair Service in Cooper City FL, Plantation, Sunrise FL Microwave Repair, Hallandale, Stove Repair, Deerfield Beach, Davie, Pembroke Pines FL In Home Appliance Repair